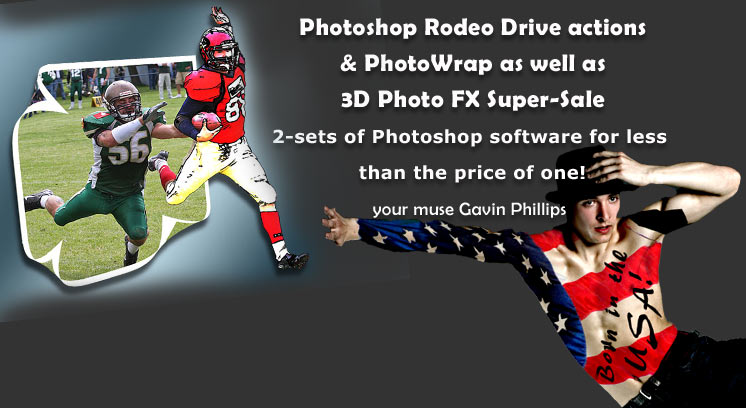 Some samples of the 'Rodeo Drive' actions
ROLLOVER image to see original photo
Santa Monica
ROLLOVER image to see original photo
5th Ave
ROLLOVER image to see original photo
Serpico
ROLLOVER image to see original photo
Venice Beach 2

ROLLOVER image to see original photo

Rodeo Drive
ROLLOVER image to see original photo
Madison Ave
L.A.
Route 66

ROLLOVER image to see original photo
Lines 1
See PhotoWrap & Matrix FX samples below
ROLLOVER image to see original photo
Wrap any High School or College sports team
flag around any person.

ROLLOVER image to see original photo

Fast and pain free tattoos

ROLLOVER image to see original photo

Wrap any photo of anything to people or buildings
Apply any photo or graphic to anything
Rodeo Drive Photosh

op actions

and movies

35 Actions

5 Movies

5th Ave
Rodeo Dr


Rodeo Dr 2


Vegas Cool
Brooklyn
Delancey St
L.A.
L.A. Radial Blur Vignette
Serpico
Soho
Santa Monica
Venice Beach
Venice Beach 2
Bel Air
Route 66
Madison Ave
Malibu
Audrey
Broadway
Hi ya
Mystical
BW and color
Variations
Rakish
Matrix setup
Matrix finish
Lines 1,2,3
Rays 1,2,3
Swirks 1,2,3


Wave





How to load actions into Photoshop

How to create the PhotoWrap effect

How to quickly remove/isolate a person or object
and remove it from a photo

Create the Matrix effect using the Matrix actions

How to create the Matrix effect manually

3D Photo FX Photoshop actions and movies



3D Photo FX Movies

3D Photo FX Photoshop actions

Overview of the workflow

Step 1 - Create & distort your frame

Step 2 - Extract/Isolate people/objects using
the 'Quick Selection' tool and masking

Do you use Photoshop CS or CS2? There are also movie tutorials showing you how to
extract/isolate using Photoshop's 'Extract Filter'.

Step 3 - Remove background around your frame

Step 4 - Warp your frame (Optional)


Step 5 - Apply a drop shadow

Bonus - How to use Photoshop CS5's new
'Refine Edges' selection modifier.

Funky paint

Funky paint saturated

Edge

Ink outline

Colored pen

Light color sketch

Vintage

Retro

Retro 2
Return Policy & software compatibility
Mac & PC Compatible

back to top

We will exchange any faulty
CD with another CD.
Due to the nature of software
& training movies,
we cannot offer refunds.

Software compatibility

This set of PhotoBrushes & actions is compatible with
Adobe Photoshop CS3, CS4, CS5, CS6 & onwards.
Our software does not work with Photoshop Elements or other software.
Pease e-mail or call us if you need any other information.

Thank you.
gavin@photoeffects.biz
USA
312-569-0958
England
07738-284-330